EXPLORE Amazing Laos TOURS 2017
---
Your idea of Laos tours can meet a great experience with us. We at Vietnamese Private Tours ensure to design the most desirable itinerary for your Laos trip. With us, you can view some of the most stunning locales in Laos and visit the beautiful northern mountains of the country and to boot derive a cruise experience down the Mekong River.
LAOS PRIVATE TOURS & PACKAGES
We make sure to include all those attractions in our itinerary. Expect to visit the popular tombs, glazed temples, Pagodas and UNESCO heritage town of Luang Prabang. Enjoy a holiday with us as our Laos tours and packages can make you explore some of the unexplored attractions of the country. One of the biggest experiences for travelers would be to visit the Laos remote areas by going through an adventurous traveling with us towards the northern Laos. The idea of home-stay with the locals in Laos would certainly give an enriching feel to your holiday vibe. Rest assured you would surely enjoy your Laos private trip with us.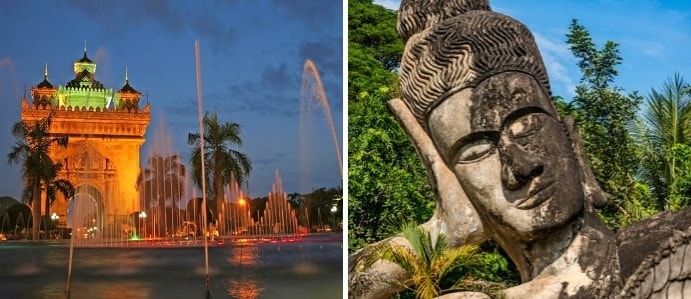 Exceptional Laos Adventure Tours
Laos tours and packages includes many breathtaking destinations and are designed for travelers who would like to discover and experience the best and undisclosed parts of the country .we at Vietnamese Private Tours offer Laos tours without any limitation. Basically, availing our service can make you travel throughout the Laos and Indochina extensively.
We offer a fully guided tour for our travelers and make sure that they enjoy a smooth travelling experience with us. Rest assured, we would offer you the best Laos private tours in every sense of the word.
Laos Classic Tours: Explore Must see places
You probably must have heard about the classic Laos private tours and hoping to embark on one. Well, if you desire to enjoy the best classic private tours itinerary, you can certainly trust us. Our well planned classic tour packages will make you enjoy the pristine scenery of Laos in an amazing way. Laos offers heaps of adventurous activities like fun thrilled tubing in Vang Vieng, trekking in northern mountains, Mekong river cruise tour and many more such thrilling activities which would surely be enjoyable for you. And we at Vietnamese Private Tours ensure that you discover all that Laos offers with us seamlessly. Though we incorporate the best for you in our Laos private tours packages, however you have the option to customize your itinerary as per your wish list. We assure to meet your expectation with our tailor-made itinerary.
VIDEO: LAOS TOURS 2016